Yes, you can legally build your own firearm per the Gun Control Act (GCA) of 1968, 18 U.S.C. Chapter 44:"...an indiviual may make a "firearm" as defined in GCA for his own personal use , but not for sale or distribution". Check you local laws and ordinances for any local or state restrictions. Any gun that you make must be legal to own where you live, AND, YOU MUST NOT be prohibited from owning a firearm for any reason.
Our part of this process is the LOWER RECEIVER, see description of all major parts, below.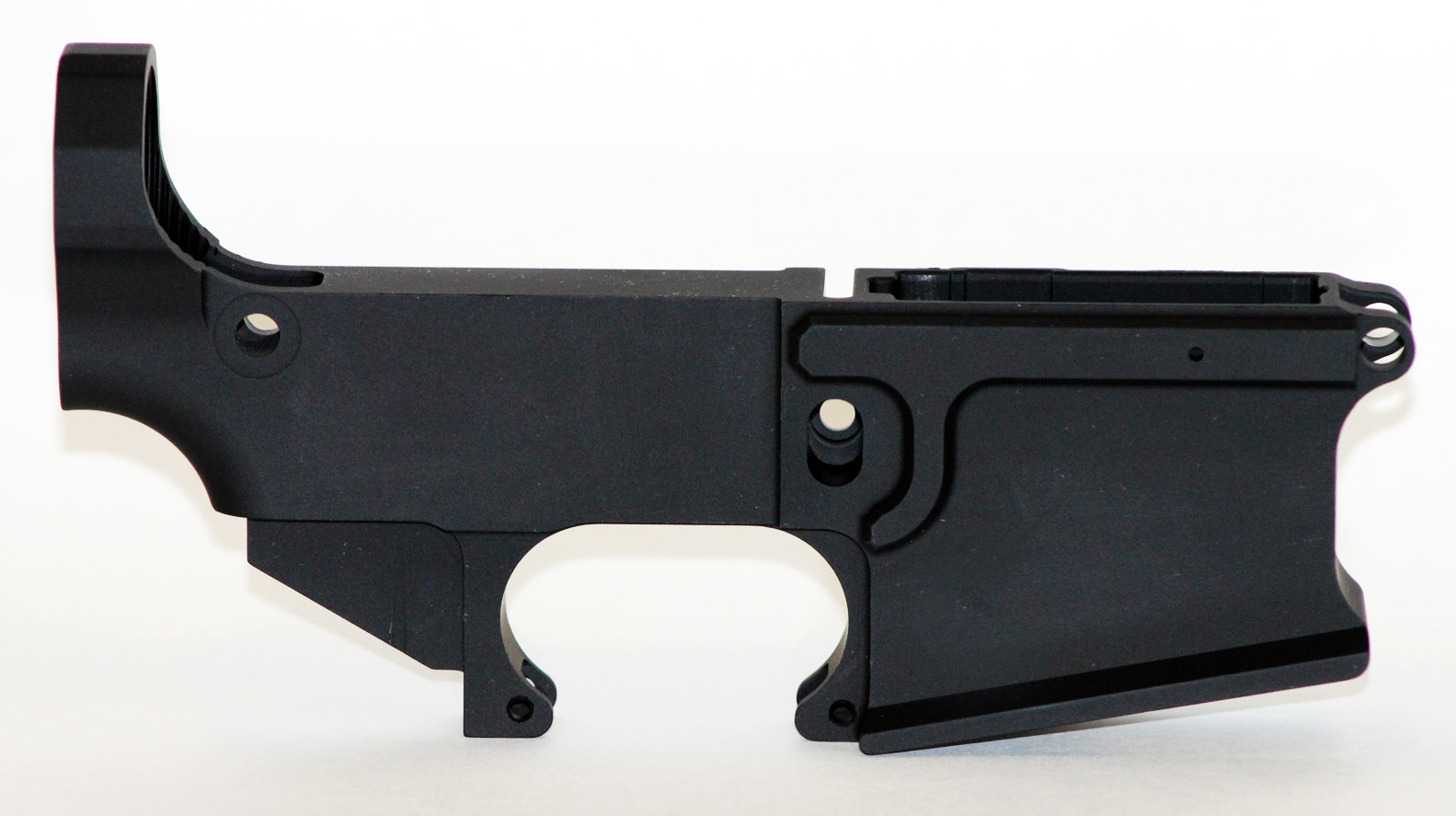 If you are already familiar with this process,
Click here to goto our AAbrands.net page and order your 80% lower receiver.
See how easy it is to finish our lower receiver in the video below!
Or scroll down for more info
What you will need to build your own AR-15:
1. Complete upper receiver
2. Lower receiver - this is the part that is considered the "firearm" and it is a regulated item. If you purchase a finished lower, you will need an ATF form and pass a background check. Our 80% lower is not a firearm until you finish it. You can finish it one of two ways:
----A With your drill press and our jig . Click here to see video
OR
----B With your vertical milling machine - no jig required
3. Buffer tube/stock
4. Trigger and parts kit
5. Pistol grip
A more detailed description is shown below.
Why build your own rifle? A number of reasons - It's fun!! Plus, you get a lot of satisfaction from doing it yourself. And, it can be cheaper - not because a complete, basic AR costs more than building your own but because after you have paid for the ready made, basic model you will almost certainly begin upgrading - replacing components with better, more functional, cooler looking items. So you will have the cost of a ready made rifle PLUS the cost of the better, cooler looking components that you will buy anyway if you build your own.
We make and sell the lower receiver in an "80%" condition, that is, it is not finished. As certified by the Bureau of Alcohol, Firearms and Tobacco, our 80% lower is not yet a firearm as we ship it. It only becomes a firearm when you finish it using our easy to use drill jig (drill press required) or your milling machine (no jig required). To complete the rifle you will also need to purchase an upper receiver, barrel, parts kit, etc. available on many websites and in some shooting supply stores.
Click here if you are ready to order!

PROUDLY MADE IN USA!
We make our lower receivers and jigs in our own shop from high quality, locally sourced materials

The steps below illustrate the process


All AR style rifles have an upper receiver that contains the bolt carrier group and has the barrel attached to the front. The upper receiver normally has a Picatiny rail on the top where you can mount an iron sight, a scope, a red dot sight or a handle. You can purchase the upper receiver "stripped", that is just the metal housing and purchase all of the related components separately or complete with everything already assembled. The upper, with or without it's various components is not a regulated item. We do not sell "uppers" but you can purchase them at many local gun shops and from many online suppliers.

Click image for larger picture


This is the part that is considered the "firearm" and it is a regulated item. If you purchase a finished lower, you will need to fill out an ATF form and pass a background check. Our 80% lower is not a firearm until you finish it. You can finish it one of two ways:

1. With your drill press and our jig. (see video here) OR

2. With your vertical milling machine - no jig required

Source: Right here!

Back to top

Buffer tube/stock
This is the part that contains the buffer and buffer spring. The butt pad that goes against your shoulder is at the back end of the tube. Shown at left dissassembled, many styles to choose from.

Sourc: local gun store or numerous online suppliers

Back to top

Trigger/parts kit.

You can buy a parts kit complete with a standard trigger and pistol grip or a parts kit alone and the trigger and pistol grip separately. Note: if you plan to shoot for accuracy at long range a good trigger will do more for your accuracy than anything else.
Back to top


Call 800-826-7606
E-mail: will.aerni@novatoolco.com