Imagine, your logo or signature made into a branding iron! Wouldn't that add a real professional touch to your work? All we need is a sharp, clean, black and white image and we can make that happen. Torch heated or electric, up to 3 square inches for a hobbyist electric unit and 16 square inches for a standard commercial duty electric unit. We can also make larger, custom made logo irons. See guidelines below for creating the art for your logo brander.

Guidelines for creating your art on your computer or scanning a paper image to transmitt by email: (click here for tips on drawing your art on paper)

The image should be clean, crisp, and black on a clean white backround.
When creating a new image, set the resolution at 600 dpi. Some, simple images may work at 300 dpi but we recommend higher. The image must be created or scanned at this or better resolution - resolution CAN NOT be effectively increased simply by raising the dpi on a low res image.<
Use black and white to create art - not color.
If you are scanning colored art, scan it in color then use a photo editing program to change colors to black. Scanning colors as black and white will not produce true black. Also, changing a color image to "grayscale" will do just as the name implies - turn it to shades of gray - which will leave rough edges and gaps in fine lines.
We recommend .jpg, .tif, or .psd format (at 600 dpi) for raster files and .ai or .cdr for vector files. Please do not submit art in Word (.doc or .docx) or other word processor files. Your image may be distorted or changed in some manner during transmittal.

Drawing your image on paper:

Your image should be a clean, crisp, black image on a clean white backround.
Do not use colored paper or graph paper.
When sending multiple samples of your image, please do not circle the one you prefer. Many times we have received art that is circled with the circle cutting through part of the image.
Please do not fold your art through the image.
Please do not draw a box around your image unless you want the box on your branding iron.
Color or shades of gray cannot be branded. If you have either of these on your art, they must be changed to either black or white.
Use a good quality black pen, pencil is too light and leaves a rough edge.
Things to avoid:

1. Thin or very small, white areas surounded by heavy black areas: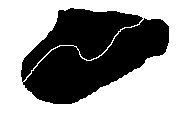 The thin white line will tend to burn over and disappear.

2. Skips of the pen when drawing art or signing your signature:



Many times these skips aren't noticed on the paper because your eye tends to "fill them in" but the process of making the iron will exagerate them and they will be more noticeable on the iron.

3. Lettering that is too small: Normally 10 point, which is a little less than 1/8 inch high, is the smallest that we recommend. In some applications a smaller size may work.

4. Lettering that is too bold:

TOO BOLD

The little openings in the letters O, B and D will burn shut.

Please call us at 800-826-7606 if you have any questions regarding your art.
Go To Top of Page
Call 800-826-7606
E-mail: will.aerni@novatoolco.com